Woodland Development Corp. Acquires Vermilion's Assets
In a previously announced acquisition, Woodland Development Corp. has now been revealed as the purchaser of Vermilion Energy Inc.'s non-core assets in southeast Saskatchewan. This story was previously reported here upon the release of Vermilion's year end results for 2022. The transaction closed on March 29, 2023, with an effective date of September 1, 2022. Drawing on publicly available data from the Canadian Petroleum Registry, the acquisition includes roughly 2,894 wells total, with approximately 957 of these wells actively producing as of March 2023 and roughly 325 facilities. The production of these assets, translates to an average of 5,710 boe/day, consisting of 5,222 boe oil/day and 488 boe gas/day for March 2023. Look at the chart provided below to see the average daily production since September 2022:
The transaction, which generated gross proceeds of $225 million for Vermilion, encompasses assets spread across the greater Arcola and Queensdale regions, accounting for around 5,500 boe/day of non-core light oil production. This significant deal aligns with Vermilion's forward-thinking strategy, which aims to secure long-term success by refining its North American inventory, minimizing unit costs, and expediting debt reduction targets.
About Woodland Development Corp.
Woodland Development Corp. is a privately owned company operating under the guidance of a team of experienced investors and executives with a deep understanding of the conventional oilfield in Southeast Saskatchewan. The company holds a positive outlook on its future in Southeast Saskatchewan, with plans to optimize existing wells, drill new ones, and acquire additional properties.
As reported by SaskToday.ca, Woodland Development Corp. has selected Carlyle, Saskatchewan as its primary hub for field operations. Presently, the company has approximately 10 dedicated employees working from this office. They welcomed nearly all of Vermillion Energy's former administration and contracting employees to join their team after the acquisition.
The Value of the Canadian Petroleum Registry in Uncovering Woodland Data
The Canadian Petroleum Registry serves as an interactive visual explorer for oil and gas companies, wells, and facilities in western Canada (AB, SK, BC). This platform enables users to access vital information on company production, well production, facility production, and even locate wells by company through an easy-to-use mapping tool.
Disclaimer: It is crucial to acknowledge that the Canadian Petroleum Registry relies solely on publicly accessible data, excluding confidential wells and facilities. Consequently, the information presented may not encompass the entire landscape; however, the Canadian Petroleum Registry remains a highly accurate resource, given its aggregation of multiple public data sources.
In the case of Woodland Development Corp.'s acquisition, the Canadian Petroleum Registry provides valuable insights into the company's production data. By examining the company's production profile, users can better understand the scale of operations, output levels, and the potential growth prospects resulting from the acquisition. The registry showcases production trends, allowing users to anticipate future performance and make data-driven decisions. Follow along using this link.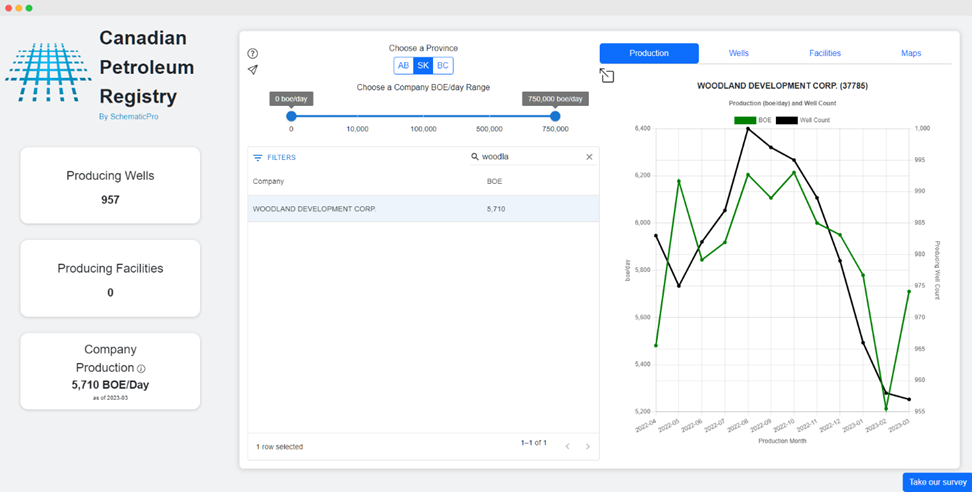 Additionally, the Canadian Petroleum Registry offers detailed information on individual wells and facilities involved in the transaction. This level of granularity enables users to analyze the productivity and efficiency of specific assets, evaluate their strategic importance, and assess their potential impact on the company's overall performance.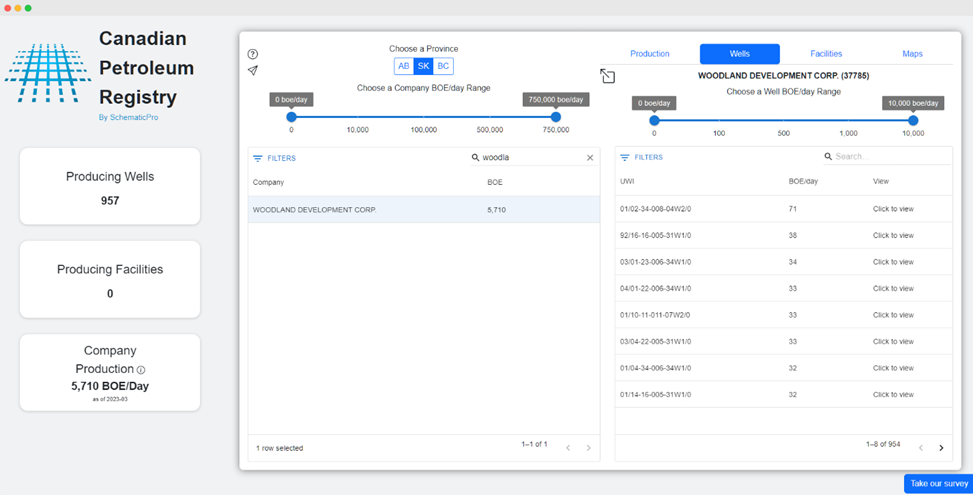 Lastly, the mapping feature of the Canadian Petroleum Registry brings a dynamic, user-friendly approach to visualizing the geographical distribution of acquired wells in southeast Saskatchewan. The map's clutter-free design employs clustering to depict well locations, and as users select a cluster, they are guided through progressively more detailed subclusters, ultimately arriving at individual well information. Details such as Well UWI, LSD, Well Type, Status, Licensee, and a Google Maps link are provided, enhancing users' understanding of each asset. By exploring the locations of wells, users can gain valuable insights into the region's infrastructure and potential for future development and expansion.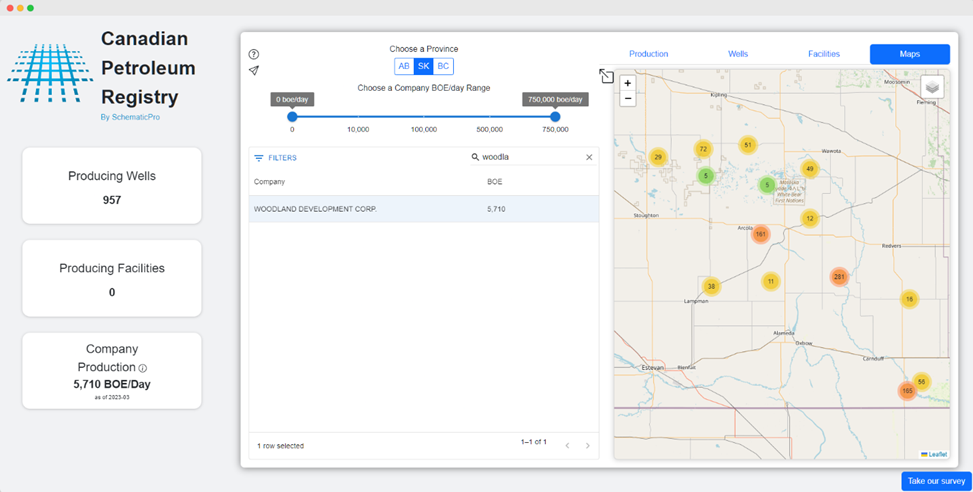 The Canadian Petroleum Registry is an invaluable resource not only for industry analysts, investors, and oil and gas professionals, but also for those curious about the energy sector. With its user-friendly interface and comprehensive data, this free tool enables users to make informed decisions about investments and business strategies. Its extensive features provide insights into company production, details, and industry trends, giving stakeholders and enthusiasts alike a competitive edge in the complex oil and gas landscape.
Tying It All Together – The Vermilion and Woodland Deal
The acquisition of Vermilion's southeast Saskatchewan assets by Woodland Development Corp. underscores the potential for growth and opportunities in the regional oil industry. This transaction emphasizes southeast Saskatchewan's appeal as a center for light oil and gas exploration and development. Moreover, it illustrates the prospects available for emerging companies like Woodland Development Corp. as well as other industry players aiming to establish or expand their operations in the region.
For Vermilion, the divestment allows the company to focus on its core assets and strengthen its position in the energy sector. As mentioned in the press release, the sale is part of Vermilion's strategy to re-position itself for long-term success by high-grading its North American inventory, reducing unit costs, and accelerating debt reduction targets. This move will enable Vermilion to allocate resources more effectively, optimize its asset portfolio, and improve overall profitability.
In conclusion, the acquisition of Vermilion's southeast Saskatchewan assets by Woodland Development Corp. highlights the region's appeal for oil and gas exploration while offering growth opportunities for emerging companies. Simultaneously, Vermilion's divestment aligns with its long-term strategy, allowing the company to focus on core assets. This transaction benefits both companies and the Saskatchewan oil industry as a whole.
Disclaimer: The information and data provided in this analysis are sourced from publicly accessible resources and do not include private facility subtypes or undisclosed data. As a result, the figures and trends discussed within this analysis may not encompass the complete landscape of the Canadian energy industry.
Please note that all boe conversions presented in this analysis are calculated using a standard conversion ratio of six thousand cubic feet (Mcf) of natural gas to one barrel (bbl) of oil. For liquid measurements, a conversion factor of 1 m3 = 6.2898 bbl is applied. Furthermore, monthly conversions utilize a factor of 30.5 days for consistency.